MANUFACTURING
Having advantages like:
More than 200 professionally trained staffs
The ISO 9001: 2015 quality management system
Factory with an area of 30,000 m2
Produce approximately 1,000 tons of steel structure/month,
Produce approximately 500 tons cold rolled steel/month
Produce approximately 360,000 m2 of corrugated iron/month equipped with high-tech automatic production line.
We are proud and believe in providing optimal solutions, high quality products and the best service to our customers.
Products manufactured from Thuan Phat factory have separate parts to produce the three main parts that make up the factory:
Main structure: column, beam
Accessories: purlins and doors ...
Covering: corrugated iron roof, corrugated iron wall, all kinds of border ...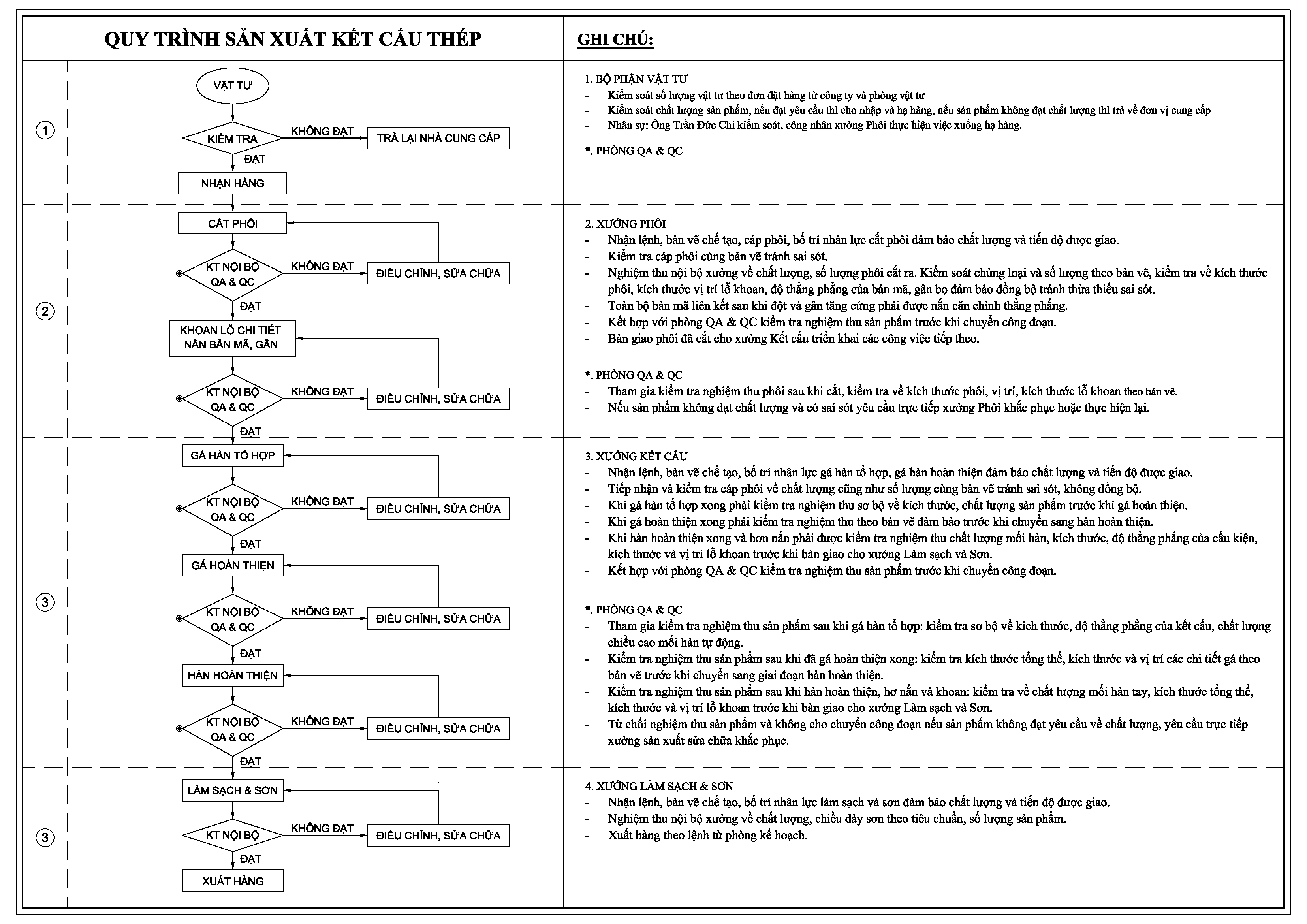 I. Main Structure:
Cutting:
Steel cutting with CNC automatic cutting machine, can be cut to any shape needed. All panels are cut to the required size by an extremely hot temperature that capable of cutting steel plates up to 80mm thick.
Machinery:
+ CNC automatic cutting machine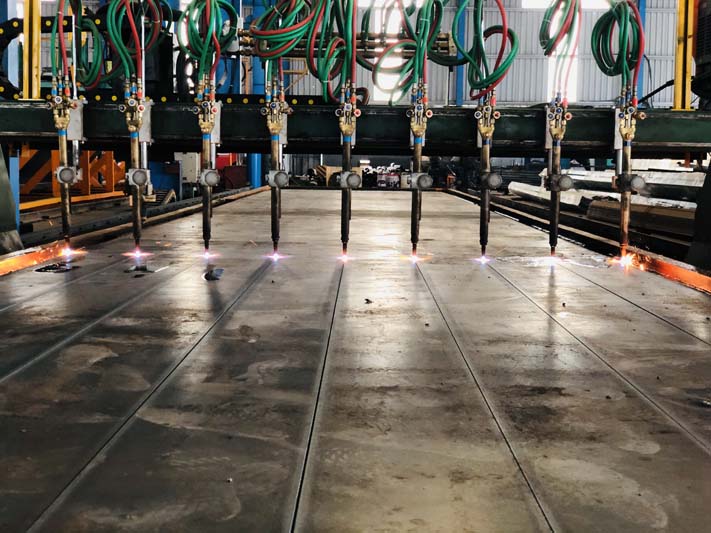 + 6100 x 12mm Hydraulic Guillotine Shearing Machine Kruman, cutting 12 mm thick steel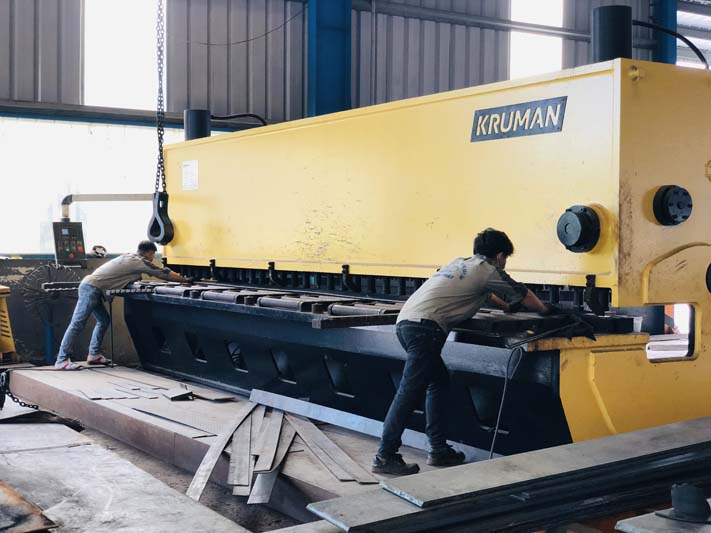 Puncing:
+ After cutting, use the semi-automatic machine to drill or punch holes on the sheets as required.
+ Machinery and equipment: drilling machine, punching machine.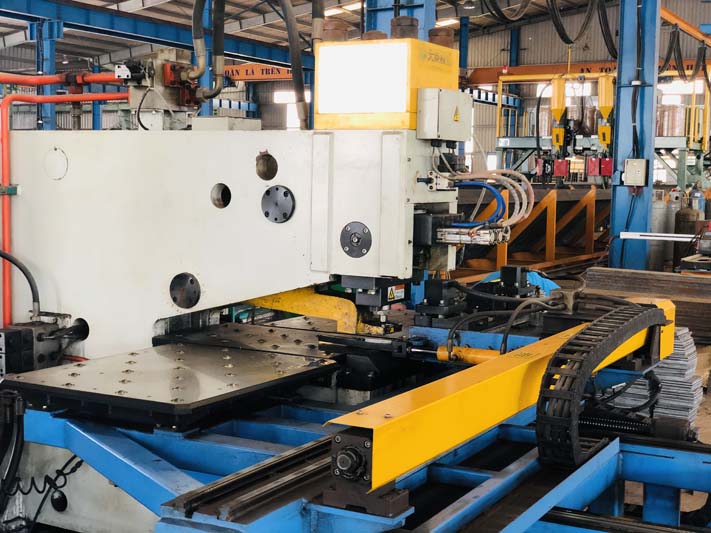 Attachment:
+ Using automatic jigging machine to mount assembly steel plates into structures with cross-section H.
+ Machinery and equipment: automatic assembly machines.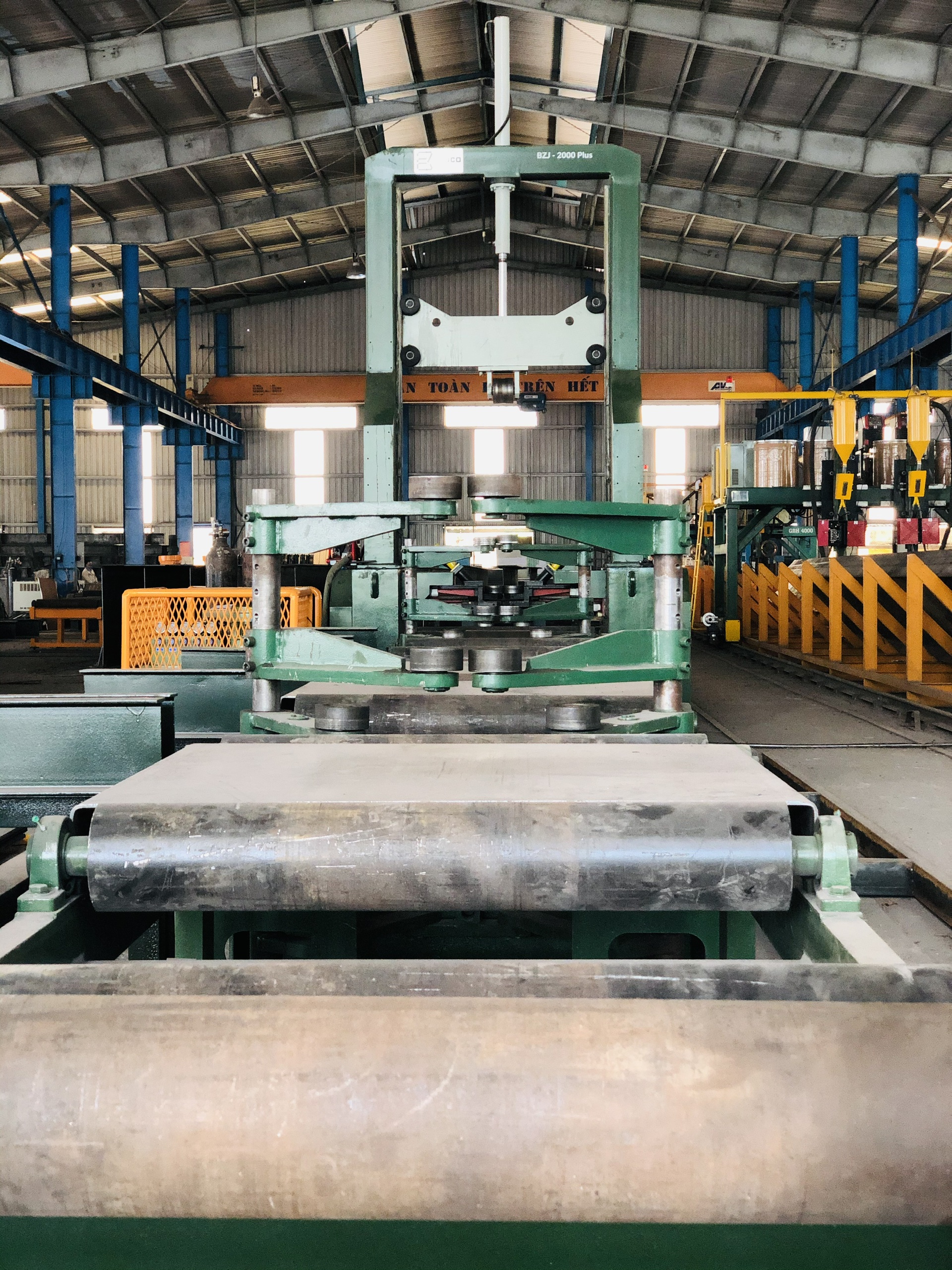 Welding, welding bonding, welding finishing
+ After mounting, the components are then put into an automatic welding machine. To ensure the best quality and technically correct, the weld is inspected by visually, ultrasonic welding machine or magnetic particle inspection, etc. The welding points are guaranteed with the best quality as well as aesthetics.
+ The high temperature of the welding process can cause the components to warp. To ensure the accuracy, the components must be calibrated, straightened and carefully checked before moving on to the next step.
+ After the components are welded and calibrated, the stiffener and gusset plate are hand-welded by highly skilled welding workers to ensure accuracy. All welders at the factory have a welding certificate in accordance with the most stringent requirements.
+ All welds are done according to the rules from the latest version of the technical manuals based on Vietnamese standard.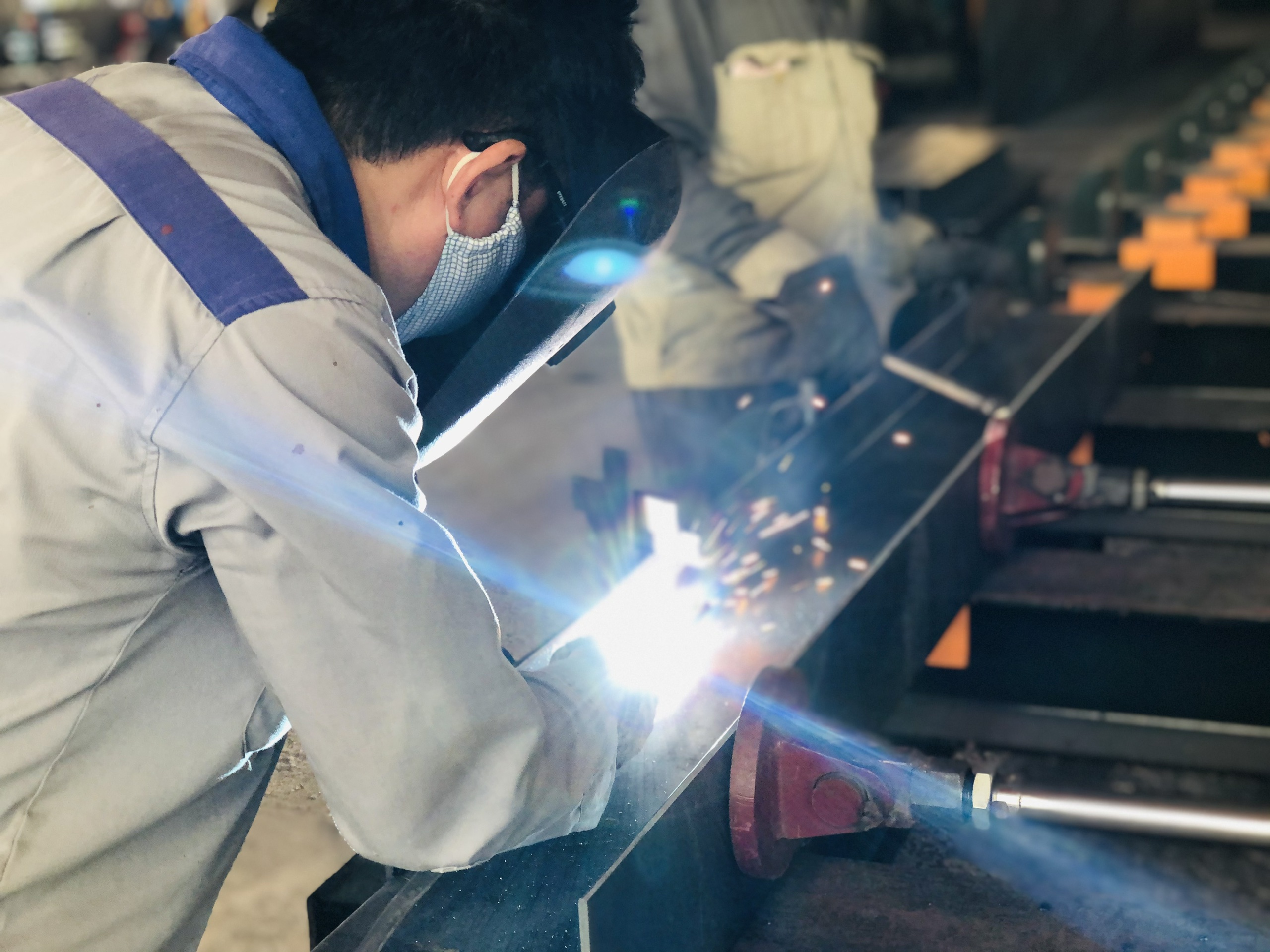 Surface cleaning:
+ After being completely welded, the welds are then either mechanically cleaned or using shot blasting machine.
Painting:
+ Thuan Phat uses high pressure industrial paint machine based on US technology. These components are then spray painted, galvanized or other special paint as specified by the customer.
+ Normally, our components have 3 layers of paint, including: 1 anti-rust coating, followed by two coatings. The total thickness of the coating is about 80μm or more to ensure the long service life of steel structures. In special cases, it is possible to paint according to the requirements of the customer or the designation of the project.
II. Attachments:
Shaping
Structural components such as purlin are made from galvanized coil or cold rolled black steel conforming to TCNV, JIS, ASTM standards. These components are processed into the letter Z and C from the type of roll steels from 1.5mm to 2.5 mm thick.
The time to create shape takes about 2-3 minutes. After using rolling machine, the surface will be very smooth with no trace on the surface.
Machinery: C and Z Purlin rolling machine
Punching
Purlin is cut and punched according to BVTK's standard.
Painting
For non-galvanized black steel purlins, which require surface coating, Thuan Phat uses high-pressure painting machine based on US technology.
III. Covering
+ All types of corrugated iron are rolled from high grade steel, cold rolled steel coated with zinc aluminum alloy and primed in accordance with ASTM technical standards.
+ There are many different types of corrugated iron, to meet the needs of customers and projects' requirement.
+ Thuan Phat has many types of corrugated iron rolling machines, with many different shapes of corrugated iron with any length, such as: Seam-lock and Clip-lock rolling machines; rolling machines with 5-waves, 6-waves, 9-waves, 11-waves ...; etc.